GM Architects,
Wall Street is officially in a bear market while cryptos tumble following the whole market. The Arch Ethereum Web3 token traded 28% lower than last week. The Arch Blockchains token is also trading 32% lower.
In this edition of our Arch Newsletter, we explore recent market moves, discuss the benefits of diversification during a bear market, and share a guide about Chainlink and the LINK token.
Also, registrations are open for the Arch DeFi BootCamp (more on that below)
---
🐻 Wall Street is officially in a bear market. Crypto falls
The S&P 500 met the bear-market threshold on Monday and has largely remained under pressure this week aside from a Wednesday bounce following the Federal Reserve's 75-basis-point rate hike, its largest in nearly 28 years.
Cryptos, which had risen Wednesday after the U.S. Federal Reserve Chair struck a determined inflationary tone, lost their gains Thursday amid fresh investor concerns about rising prices, global unrest, and a looming recession.
Bitcoin was down more than 10% over the last 24 hours. Ether, the second-largest crypto by market cap after bitcoin, was testing the $1,097 waters where it last waded over a year ago and was down over 15%. Other tokens were also trading on the red, with Polkadot (DOT) and Uniswap (UNI) recently down over 16% and 13%, respectively.
---
🤓 Want to learn more about DeFi?
We are hosting a 4.5-hour DeFi boot camp so you can master the basics of DeFi and some more advanced concepts and use cases.
Subscribe using the link below. [Currently offered in Spanish] 🇪🇸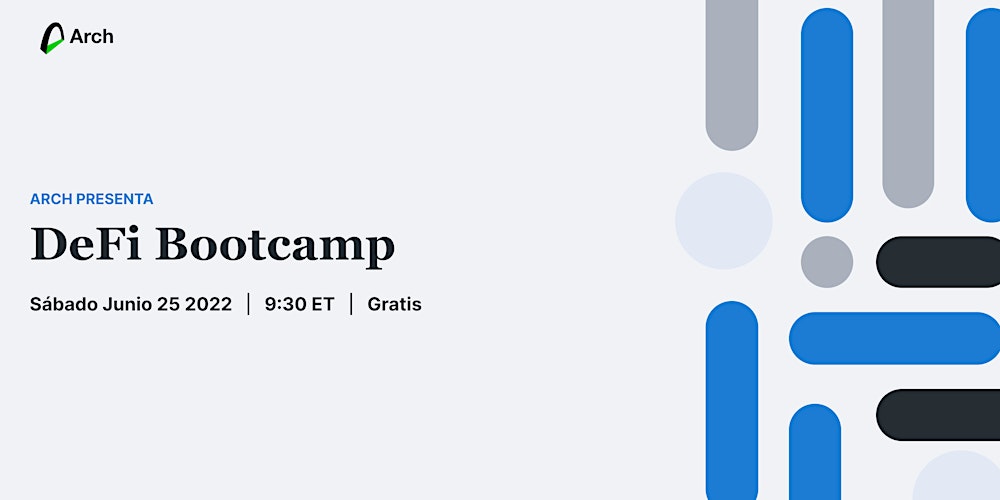 ---
🥚Diversification is the only free lunch
News on the multi-billion-dollar hedge fund Three Arrows Capital (3AC) being on the fringe of insolvency due to its high leverage investments in cryptocurrencies has rattled the market.
In the same boat with 3AC are several other investment funds and individual investors, like 35-year-old Minnesota plumber Mr. Washburn who had his $100,000 savings frozen in his Celsius account. Stories like these are not isolated and the continuing distress and volatility may trigger further concerns, particularly for those with highly concentrated investments.
In financial theory, diversification means allocating investments across different securities. It is an essential strategy to reduce idiosyncratic risk, and a well-diversified portfolio should be exposed only to systematic or market risk. This is the only free lunch in investing.
With holdings of 18 governance tokens from decentralized protocols, the Arch Ethereum Web3 (WEB3) token tracks the market performance of the ecosystem, while minimizing diversifiable risks.
As the 30-day rolling volatility chart above shows, the WEB3 token has significantly less volatility when compared to Chainlink (LINK), Uniswap (UNI), Decentraland (MANA), and Axie Infinity (AXS), some of the largest tokens in the ecosystem.
As the data table above indicates, the WEB3 token has a relatively low max drawdown and higher value at risk (VaR), making it a safer investment in headwinds. The slightly negative skewness and relatively low kurtosis also suggest that WEB3 has a lower left tail risk, which means a lower downside risk.
---
📬 Like this weekly recap?

Every Friday we send a weekly recap about the Web3 ecosystem and how crypto markets, and markets in general, are moving. Share and subscribe!
---
📈 Web3 performs better than Ethereum

While the Arch Ethereum Web3 token also had a rough week, it again performed better than most of the market. The token traded 27.5% lower than last week, while Ethereum fell 37.2% and Bitcoin 29.6% in the same period.
Decentraland (MANA) was one of the outperformers, trading only 8.96% lower than last week after the Decentraland DAO votes to give Decentraland Games a $1 million grant.
Uniswap (UNI) traded over 21% lower than last week. However, Uniswap Lab hires former New York Stock Exchange President Stacey Cunningham as an advisor despite the challenging environment.
Curve Dao (CRV) experienced an aggressive sell-off. The recent fall-out threatens the resistance points, which raises flags of even more steep falls.
Compound (COMP) also experienced a sell-off after Three Arrows Capital liquidated more than 15.000 ETH is Compound in one hour. The firm is liquidating its holdings to repay its debts and prevent liquidation.
⛓ CHAIN is down 32% this week
Markets punished major blockchain tokens this week. The Arch Blockhains token is down 32% this week
---
⚙️ Learn more about Chainlink
Chainlink is a decentralized oracle network. Chainlink takes the capabilities of smart contracts to the next level, enabling access to real-world data, events, payments, and more without sacrificing the security and reliability inherent in blockchain technology.
--> 📚🤓 Take a deep dive into Chainlink, a protocol part of the Arch Web3 token.
---
🥰 Become a beta tester
Be an essential part of Arch's development. We want to hear your feedback about a new prototype we are testing. Let's meet!
$WEB3 holders - Verify your assets to access the exclusive #architects-lounge channel.
Stay tuned for events, research, and exciting product announcements.
⚠️ Important: beware of scams, and please report any attempts. We will not message you first and will never ask for your keys.
---
Disclaimer: The opinions expressed are for general informational purposes only and are not intended to provide specific advice or recommendations. The views reflected in the commentary are subject to change without notice.