Gm fellow Architects;
The real world and crypto are having their moment. From Mark Zuckerberg tinkering with metaverse-related products to Argentina launching a blockchain-based ID service, well, let's just say adoption is looking bright.
📩
In this week's installment:
• Real-world assets get a crypto makeover
• Web3 assets performing better than the S&P500 in September
• Meta is playing the metaverse game
---
Bringing the real world to crypto
Sometimes, crypto can seem distant and unconnected to our daily lives. This perception is about to change with the emergence of Real-World Assets (RWAs) tokens.
🏠
Real-World Assets (RWAs) are assets that exist tangibly offline, such as real estate or equities. Tokenization refers to generating a digital certificate immune to alteration or replication to represent an RWA on a blockchain.
Not sure I'm following
Picture this: rather than being tied to paperwork, a piece of real estate is represented as a digital token.
This integration of tangible assets with the innovative capabilities of blockchain technology is pioneering a future where real and digital merge seamlessly.
Tell me more
Blockchain's decentralization introduces a more efficient and transparent method of ownership. Also, it is inexpensive and highly accessible to use.
Imagine buying shares in a prime real estate property halfway around the world in real-time, with the ability to monitor its status directly on-chain.
RWA tokens open up a new world of opportunities previously unreachable to the ordinary investor.
Give me some examples
The scope of assets possible to be tokenized is staggering. Real estate is the classic example, but the potential market for RWAs is immense.
Many illiquid asset classes are only accessible to limited wealthy investors due to constraints on ticket size (e.g., pre-IPO stocks, hedge funds, infrastructure projects, commodities, alternative investments, private credit, etc.).
Fractional ownership is another unique benefit of RWA that will transform accessibility in existing markets.
It will enable assets to be split among multiple owners. A property or fine art represented by tokens becomes divisible, transferable, and instantly tradeable across decentralized platforms.
In this way, DeFi protocols can be incredibly disruptive, offering greater inclusion.
That sounds cool, is there any data on potential?
Yes, a study from the Boston Consulting Group estimated that the tokenized market could reach $16 trillion by 2030, rivaling the world's largest financial markets. That's a lot.
In a recent interview, Larry Fink of Blackrock – whose company has applied for a spot Bitcoin exchange-traded fund (ETF) in the US – said: "ETFs was a big revolution for the mutual fund industry … And we do believe that if we can create more tokenization of assets and securities …".
It sounds too good. What are the downsides?
While tokenization offers numerous advantages, there are obstacles to solve. The most obvious one is the issue of trust.
How can one be assured of a tokenized RWA's validity, authenticity, and delivery? The blockchain can validate transactions, but fulfilling physical assets requires a layer of human trust.
A crypto-native solution to this trust dilemma is forward contracts encoded within intelligent contracts and incentives. By locking parties' commitments - think some assets or an amount of money in guarantee - you can expect users to behave collaboratively and appropriately settle the agreed transaction.
In case of disputes (one party not fulfilling its obligation), the situation can be handled directly by an algorithm in a smart contract or be referred to decentralized dispute resolvers (DDRs), which are decentralized organizations that have economic incentives to solve disputes in good faith, ensuring a trust-minimized transaction process.
Is this what the future looks like?
It can be. Blockchain technology, in its essence, is about inclusion and efficiency. By integrating real-world assets on-chain, we're not merely tapping into a novel investment avenue but crafting a future where investment is transparent, efficient, and inclusive.
The amalgamation of RWAs with blockchain is setting the stage for a financial revolution.
I want in
The Arch Ethereum Web3 Token ($WEB3) offers the simplest way for investors to be exposed to the most innovative protocols in crypto, in a solid and diversified way.
---
It's looking good for Web3

We are about to close the 3rd quarter of the year, and this will be marked by a slight pullback in the positive returns obtained so far in 2023.
In the news, investors remain vigilant about the American fiscal situation, which could lead to a shutdown in early October, and look at the crisis developments with the mega-construction company Evergrande, which threatens to destabilize the Chinese growth formula.
What this means for markets
In traditional risk markets, the S&P500 is on track to close the quarter at -3.4% (+12.0% for the year), while Nasdaq is at -4.3% (+26.1% for the year).
In crypto, Bitcoin is performing at -10.8% for the quarter (-0.4% in September and +63.7% for the year), while Ethereum is at -10.1% (-2.3% in September and +39.0% for the year).
But Web3 is rising
Contrary to the major crypto assets, our Arch Web3 token - composed of the main protocols in infrastructure, consumption, and DeFi - has been having a positive month at +5.4% (+6.5% for the year), marking a recovery in relation to the recent underperformance of this asset universe.
---
📰 There's a digital and real world crossover

⏱ If you only have time for the quick and dirty
Mark Zuckerberg announced new headsets and sunglasses that merge the digital and real worlds and shared the advances in photorealistic avatars.
Argentina is launching ID blockchain-based ID services.
The SEC is delaying 4 Bitcoin ETF approvals.
☕️ If you want the full scoop

🕶 On Meta launching metaverse sunglasses: Meta is stepping into the future with its latest innovation – the Ray-Ban smart glasses. The shades come with built-in cameras, and users can live-stream their adventures to friends and followers, make phone calls on the go, and soon harness the power of MetaAI, Facebook's new AI assistant. But what does it mean? It means the glasses can "understand" what you are looking at and give you recommendations. Want to change a lightbulb? You can get step-by-step instructions.
But that's not all. They also launched the Quest 3 headset, a mixed reality headset that will let you play a virtual piano on your coffee table, watch a Tahitian sunset directly in your living room wall, and play video games with all the set up in your bedroom.
And we are also getting photorealistic avatars. So yes, the metaverse is getting closer by the minute.
You can watch it here 👇
🇦🇷 Argentina goes all in on blockchain: Well, more like Buenos Aires, but the city of tango and wine is launching a blockchain-based ID service that will be used to store marriage and death certificates.
🚨 On the SEC delaying decisions, again: The U.S. Securities and Exchange Commission has again delayed its decision on four Bitcoin ETFs filings under consideration. The applications belonged to BlackRock, Bitwise, Invesco Galaxy Digital, and Valkyrie. And what does it mean? That we need to sit and wait some more.
---
🗞 In other news - Powered by The Defiant

---
📺 Look mom, we're on the news!
Sharing more about the work we do bringing crypto closer to investors
And talking about what the Bitcoin halving means for investors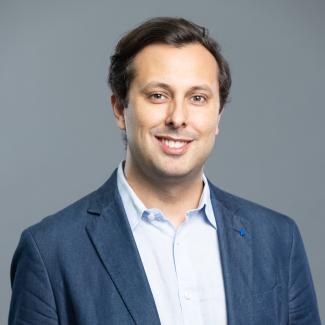 ---
Disclaimer: The opinions expressed are for general informational purposes only and are not intended to provide specific advice or recommendations. The views reflected in the commentary are subject to change without notice